Meet Our Team!
Meet the Veterinarians & Team of Kingman Animal Hospital! We're pleased to provide exceptional vet care for your pets!
We are solely dedicated to your pet's care! We look forward to getting to know you and hope you'll take the time to scroll down and get to know us.
Dr. Erika Angone, DVM
Medical Director/Owner
After making homes in California, Washington, and even Germany, Dr. Angone settled into the Kingman community in 2002 upon graduation from Washington State University-College of Veterinary Medicine. She began working at Kingman Animal Hospital then and had the good fortune to be mentored by an excellent team of doctors and staff. It was then that she discovered that she enjoyed orthopedic surgery.
In 2007, Dr. Angone and her friend, Ruby Duey, partnered up and bought KAH. This was a dream they both had together, to run a top-of-the-line AAHA hospital in their town, and in joint efforts, they made this dream come true. In May of 2013, Dr. Angone married, and so came the change from Dr. Koenig to Dr. Angone. She now has two sons, Michael and Gabriel. Her veterinary interests include small animals, exotics, and emergency medicine, as well as soft tissue and orthopedic surgery. Dr. Angone enjoys traveling, hanging out with friends, and riding roller coasters. She is also stuck in the 80s and enjoys listening to her old tunes.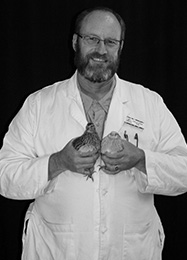 Dr. Cliff Wright, DVM
Associate Veterinarian
Dr. Wright is a highly experienced DVM (Doctor of Veterinary Medicine) at Kingman Animal Hospital. With 27 years of practice as a veterinarian and an additional 15 years as a technician, he brings a wealth of knowledge and expertise to his role.
Having received his education from the Bel-Rea Institute of Animal Technology and Kansas State University, Dr. Wright takes immense pride in his thoroughness and commitment to patient care. His exceptional surgical skills and meticulous approach ensure that every patient receives the highest standard of treatment and attention.
Outside of the veterinary practice, Dr. Wright finds solace in his hobbies. Fishing is one of his favorite pastimes, allowing him to unwind and appreciate the beauty of nature. He also enjoys the rewarding aspects of homesteading and caring for his chickens.
Ruby, Hospital Administrator
Hospital Administrator
Ruby is not only a skilled CVT (Certified Veterinary Technician) but also a Hospital Administrator and Owner. With an impressive 23 years of practice in veterinary medicine, Ruby's dedication and expertise have contributed to the hospital's success.
In 2007, Ruby and her best friend, Dr. Angone, partnered up and acquired Kingman Animal Hospital, combining their talents to establish a thriving and AAHA Accredited facility. Their commitment extends beyond the hospital, as they actively contribute to the community by volunteering with the humane society and establishing The Kingman Pet Foundation, a non-profit organization.
With a passion for supporting both her team and clients, Ruby ensures that every aspect of patient care and customer service exceeds expectations. She enjoys providing staff training and mentoring to the KAH team and delivering outstanding customer service and patient care to clients and their pets.
In her free time, Ruby enjoys immersing herself in nature through activities such as camping, hunting, and fishing. These outdoor pursuits provide her with a sense of tranquility and adventure.
Cassie, Practice Manager
Practice Manager
Cassie has been a dedicated member of the Kingman Animal Hospital since 2006, initially starting as a technician before transitioning into the role of a receptionist. In June 2013, she earned a well-deserved promotion to the position of Practice Manager. Cassie enjoys contributing to the success of the hospital she deeply cares about. Cassie is enrolled in MCC (Mohave Community College), where she eagerly continues her studies in business and accounting to further enhance her skills in managing the hospital efficiently.
The journey with Kingman Animal Hospital began after Cassie experienced a veterinary emergency with her husband's dog, which led her to meet the compassionate veterinary team at KAH. Since that event, she has gained experience in various areas of the hospital, but she found her true passion in interacting with clients.
In her personal life, Cassie is a proud mother of two wonderful kids, Aubrey and Tyler, and she shares her home with three adorable dogs.
Coral, CVT
Lead Technician
Coral is the Lead Technician at Kingman Animal Hospital. Her career in the veterinary industry began in 2014 as an assistant at a 24-hour emergency hospital. After graduating from PIMA Medical Institute, she became a Licensed Veterinary Technician and has established a strong foundation in veterinary medicine and patient care.
Coral has a true passion for emergency medicine and canine rehabilitation. With a deep commitment to her professional growth, Coral aspires to take her credentials to the next level by becoming a Canine Rehab Practitioner.
Nancy, Technician
Technician
Nancy is a Fear Free Certified Technician at Kingman Animal Hospital with 14 years of practice in the veterinary industry. After graduating from Kingman High School, she pursued additional education at Penn Foster.
Nancy takes immense pride in her ability to help and educate clients about various topics, including pet nutrition. She specializes in training fear-free handling techniques, ensuring a positive and stress-free experience for both pets and their owners. Additionally, Nancy offers compassionate guidance to clients navigating the difficult journey of pet loss and hospice care. Her empathy and support provide comfort during these challenging times.
Nancy enjoys being outdoors in her free time, connecting with nature and her beloved animals. She finds joy in horseback riding, exploring trails with her dogs, hiking, and fishing. Nancy also values quality time with her family, cherishing the moments spent together.
Art, Technician
Technician
Art has been a Technician at Kingman Animal Hospital since relocating to the area in 2002. He cherishes the love and concern the KAH team shares for one another and the animals under their care. Art finds it rewarding to care for the animal companions that visit Kingman Animal Hospital, knowing that he plays a vital role in enhancing the cherished bonds between pet and owner.
Outside of work, Art has built a wonderful family of his own, including two adorable Shih-Tzus, a cat, and a vibrant blue and gold Macaw. Not to mention, he's lovingly adopted several other "extended family" animals scattered throughout the town, embodying the true essence of what makes a family special.
In 2006, Art met his wife, Linda, and since then, they have been happily married. Together, they are proud parents to four children: Josh, Ashleigh, Chris, and Kymber, who keep their lives full of joy and excitement. Embracing the spirit of togetherness, Art's family actively participates in various community events, fostering strong connections with their local neighborhood.
Monique, Technician
Technician
Monique is a Technician at Kingman Animal Hospital and has dreamed of working with animals since she was a little girl. In 2011, she embarked on her journey by taking a summer job as a kennel technician at her local animal shelter. As time passed, Monique had the opportunity to shadow the process of adopting shelter animals and actively participate in emergency rescue cases. During these experiences, she discovered her true calling – a strong desire to learn about veterinary medicine and make a meaningful difference in the lives of animals.
In 2017, Monique's path led her to become a receptionist at a veterinarian hospital, where she immediately sensed a sense of belonging. Right from the outset, she knew that this was the environment where she thrived. Driven by her aspirations, Monique set her sights on becoming a Veterinary Technician, and she has since dedicated her life to training and honing her skills. Currently enrolled in school to become a Certified Veterinary Technician (C.V.T.), she is excited about the future and dreams of specializing in wildlife medicine.
Chelsea, Technician
Technician
Chelsea Ruff is a dedicated Technician at Kingman Animal Hospital with 6-7 years of experience in veterinary medicine. Chelsea prides herself on providing exceptional patient care and treating each pet as her own.
Outside of her work at the hospital, Chelsea embraces various hobbies that allow her to unwind and express her creativity. She finds joy in hiking, climbing, rock hounding, painting, engaging with nature, and artistic pursuits. Additionally, she loves spending time with her daughter.
Eloisa, Technician
Technician
Eloisa is a Technician at Kingman Animal Hospital and joined the team in August 2015, bringing three years of valuable experience in the veterinary field. Among her many passions, she has developed a special interest in raptor rehabilitation. Eloisa has been actively collaborating with Keepers of the Wild Animal Sanctuary, where she devotes her time and expertise to rehabilitating majestic creatures like Great Horned Owls, Hawks, and Kestrels.
In addition to her experience in raptor rehabilitation, Eloisa finds joy in working with large animals and exotics. She aspires to continue her education and become certified in the near future.
Heather, Technician
Technician
Bio Coming Soon
Amber, Technician
Technician
Bio Coming Soon
Customer Care Representatives
Stacie, CSR
CSR
Stacie is a Customer Service Representative at Kingman Animal Hospital with 30 years in veterinary medicine. She takes pride in helping calm patients' anxiety and addressing clients' concerns about their beloved pets. With her calming presence and empathetic approach, she strives to create a soothing and reassuring environment for both pets and their owners.
During her free time, Stacie enjoys listening to music, reading, and spending time outdoors BBQing and playing ball with her dog. She also spends quality time with her family, including her two dogs and three cats.
Teresa, CSR
CSR
Teresa is a Customer Service Representative at Kingman Animal Hospital. She has been dedicated to returning animals to health and aiding them in times of injury. With practical experience and a compassionate approach, she takes immense pride in helping patients recover from illnesses and injuries, ensuring they receive the care and resources they need to feel better and heal.
Beyond her professional role, Teresa leads a fulfilling life of diverse interests and hobbies. She enjoys camping, fishing, spending quality time with family, gardening, and unleashing her creativity through crafting and design projects. Whether putting her ideas on paper or creating custom shirts and cups, she embraces her passions wholeheartedly.
Jaycee, CSR
CSR
Jaycee is a Customer Service Representative at Kingman Animal Hospital. Currently enrolled at ASU, Jaycee is committed to providing the best care for pets and helping people find the ideal solutions for their beloved companions every day.
Outside of work and studies, Jaycee enjoys immersing herself in the world of books and finds joy in spending time riding her horse, Reno. She also unwinds by playing Animal Crossing on her Nintendo Switch.
Leah, Hospital Attendant
Hospital Attendant
Leah is a dedicated Hospital Attendant at Kingman Animal Hospital, having honed her skills as a kennel tech for two years. Leah's hands-on experience and unwavering commitment to her role make her a valued asset to the team.
Leah takes immense pride in her approach to veterinary medicine, always prioritizing sensitivity to her patients' needs. With compassion and care, she ensures that every animal under her watch enjoys a clean and comfortable environment, attending to their kennels, beds, and personal belongings like blankets, stuffed animals, and toys. Outside of work, Leah finds solace in hiking alongside her dog and family, watching funny movies, and enjoying naps. She also spends time visiting with her mom whenever possible.
Shay, Hospital Attendant
Hospital Attendant

Shay is a Hospital Attendant at Kingman Animal Hospital. With a lifelong passion for animals that started at 8, Shay brings invaluable experience and commitment to Kingman Animal Hospital. A graduate of Kingman High School, Shay takes pride in working with aggressive or fearful dogs, easing their stress and providing comfort during her time at the hospital. Their expertise in herpetology and handling small animals further showcases her dedication to diverse creatures' well-being.
In her free time outside of work, Shay indulges in her love for nature and animals. She enjoys building ecosystems within her home, nurturing her garden, and engaging in herping—searching for reptiles and amphibians.